Campgrounds Around
Lake Winnipesaukee

Sometimes staying at campgrounds in the Lake Winnipesaukee area of New Hampshire is the best way to get away from the hectic demands of life.  Even though I haven't roughed it in the woods since I was a child, I have friends that do.
Some of these places are more rural while others are close to all the activities in the New Hampshire lakes region. 
Besides being close to nature, some places have swimming pools, playgrounds, nearby shopping and dining and much more. 
Whether you're into completely roughing it with tents on a wooded site or using an RV with nearby facilities, you can find something in the lakes region.

If you want to avoid all the people, these campsites are ideal for your Lake Winnipesaukee vacation with nature.


Featured Listing:


Paugus Bay
96 Hilliard Rd.
Laconia, NH  03246

Great camping area where you're close to the action but still far enough away to enjoy the quietness of nature.
Reviews of Paugus Bay Park

Campgrounds...click here to share
your favorite with visitors to this page.
Here are some of the Lake Winnipesaukee area sites recommended by them: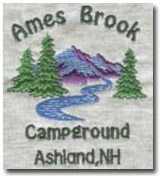 Ames Brook
104 Winona Rd.
Ashland, NH  03217
(603)968-7998
Ames Brook is a wonderful small campground with many activities such as swimming and fishing.  Close to many area attractions.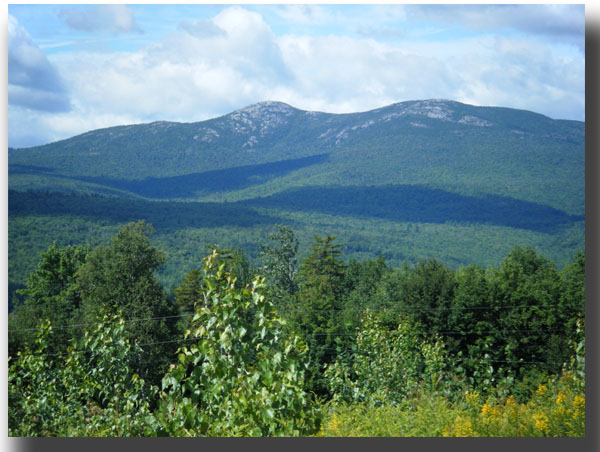 Bear Mountain Rustic Camp.
646 Perkins Hill Road
Alexandria, NH  03222
(603)744-9364
A Family owned and operated campground with magnificent views of Mt. Cardigan.  Just a few minutes from Wellington State Park for swimming, boating and more.
Bethel Woods
245 Route 3
Holderness, NH  03245
(603)279-6266
Bethel woods offers family camping in a natural wooded setting.  It's just a short driving distance to Lake Winnipesaukee and the White Mountains of New Hampshire.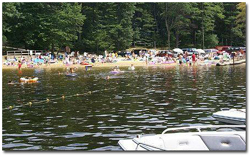 Clearwater
Route 104
Meredith, NH  03253

Wooded area for tent and RV camping.  On the shore of Pemigewasset Lake and close to Lake Winnipesaukee.  It's a place the whole family can enjoy.
Reviews of Clearwater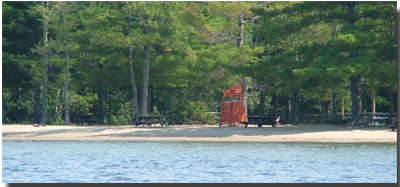 Ellacoya State Beach and RV Park
Route 11
Gilford, NH  03249
(603)293-7821
Ellacoya State Beach is located on the southwest shores of Lake Winnipesaukee.  This is an RV park (no tents or small campers.)  It's perfect for swimming and sightseeing the area attractions.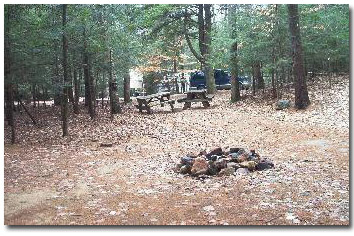 Granite State
5 Ham Ave.
Belmont, NH  03220
(603)524-9460
This is one of the oldest campgrounds and is centrally located between the New Hampshire Motor Speedway and Laconia.  It is a short driving distance to many area attractions including Lake Winnipesaukee.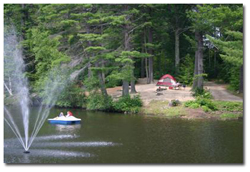 Gunstock Mountain Resort
Route 11A - Area Rd.
Gilford, NH  03249
(603)293-4341
Gunstock is an ideal campground for those who prefer "roughing" it while on vacation at Lake Winnipesaukee.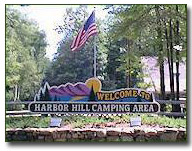 Harbor Hill Camping Area
189 Route 25
Meredith, NH  03253
(603)279-6910
Experience the many joys of camping on 55 wooded acres where you can relax and enjoy many family activities.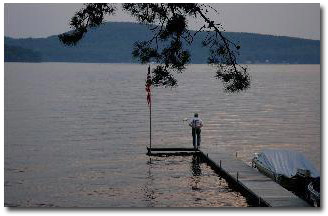 Lake Forest Resort
Great East Lake
Wolfeboro Falls, NH  03896

Lake Forest provides an exceptional camping experience for those that are 50+.  You'll find it the perfect place to unwind and relax.
Reviews of Lake Forest Resort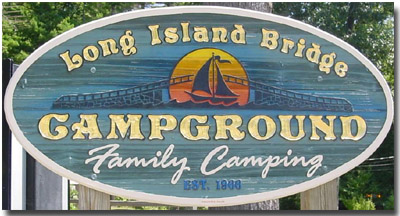 Long Island Bridge
Moultonboro Neck Rd.
Moultonboro, NH  03266

Offers campsites for RVs, trailers, tents whether in the woods or on the shore.  Long Island Bridge is just a short drive to all the area attractions.
Reviews of Long Island Bridge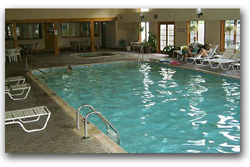 Meredith Woods
551 Route 104
Meredith, NH  03253

Meredith Woods offers large campsites with natural foliage between each one.  It has a recreation center with a heated indoor pool and hot tub.
Reviews of Meredith Woods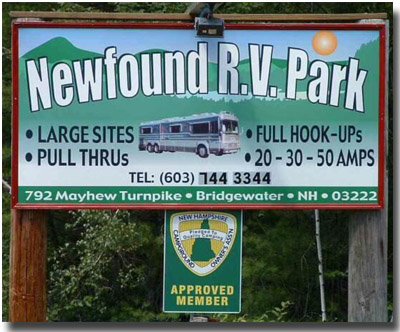 Newfound RV Park
792 Mayhew Turnpike (Rte. 3A)
Bridgewater, NH 03222
(603)744-3344
Newfound RV Park is one of the newest parks in the area.  It is close to Wellington State Park on Newfound Lake in New Hampshire.  Many area attractions are just a short drive away.

Pine Hollow
Route 3 (across from Funspot)
Weirs Beach, NH  03246
(603)366-2222
Pine Hollow is an affordable way to enjoy your vacation or weekend away.  It's peaceful and quiet, yet still close to t he area attractions.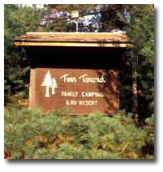 Twin Tamarack Family Camping and RV Resort
Route 104
New Hampton, NH  03256

Twin Tamarack is a relaxing resort where you can laze away on the sandy beach or take a canoe or kayak ride.  It is located on Lake Pemigewasset and is close to Lake Winnipesaukee and all the area attractions.
Reviews of Twin Tamarack Resort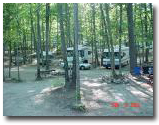 Weirs Beach Tent & Trailer
198 Endicott St.
Weirs Beach, NH  03246
(603)366-4747
This is the perfect setting for your family's Lake Winnipesaukee camping vacation.  Many activities, restaurants and more are located within walking distance.

Westward Shores Camping Area & Marina
110 Nichols Rd.
W. Ossipee, NH  03890
(603)539-6445
If you're trying to get away from it all, West ward Shores will help you relax.  It is located on the Northwest shores of Lake Ossipee and just minutes from attractions in the White Mountains of New Hampshire.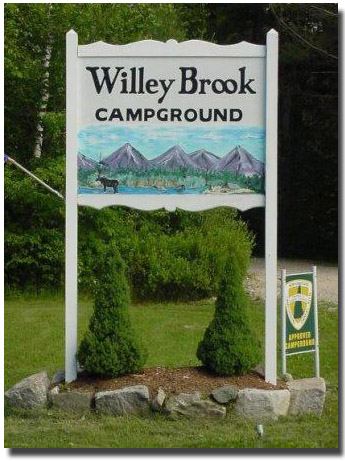 Willey Brook
883 Center St., Rte. 28
Wolfeboro, NH  03894
(603)569-9493
Willey Brook offers a peaceful, natural setting for your camping pleasure.

Wolfeboro Camp.
61 Haines Hill Rd.
Wolfeboro, NH  03894

Wolfeboro campground is located in a peaceful setting within a short distance from downtown Wolfeboro.
Reviews of Wolfeboro Camp.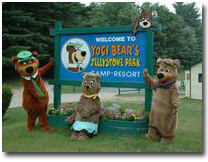 Yogi Bear's Jellystone Park
Route 132 N.
Ashland, NH  03217

Even though this campground isn't on Lake Winnipesaukee, I highly recommend it for those camping with kids.  It's a fun filled place with a waterpark and other fun activities.  Even if you're a local resident, you can go for the day to enjoy all the fun activities.
Reviews of Yogi Bear's Jellystone Park
There are many more camping areas in the lakes region of New Hampshire.  The above should give you a good start for family fun.
If you're interested in coming in an RV but don't have one, check out:

New England RV Rentals
Need to rent a recreational vehicle in New Hampshire? Northeast RV Rentals has camper rentals and RV rentals in New Hampshire.
---

Back From Campgrounds Around Lake Winnipesaukee to Accommodations

Return to the New Hampshire Lake Winnipesaukee Travel Guide Home