The History of Snow Skiing
New Hampshire
Learning about the history of snow skiing around New Hampshire can be fascinating. We do know that it began with a form of cross-country skiing and evolved into downhill skiing. In fact, skiing started with snowshoeing.
Ski poles began as walking sticks used for balance when on snowshoes. The original bindings only had straps to hold the toe down, thus its start as cross-country skis.
Skiing is believed to have started in Northern Europe and Asia thousands of years ago. People would strap large animal bones to their boot with leather strips. Wooden skis around 5000 years old were found in Norway, Sweden and Finland.
According to the New Hampshire history of snow skiing, early skis were used as a mode of transportation to stay on top of the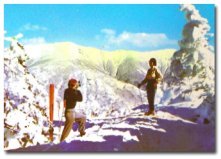 snow rather than for speed.
History of Skiing
Modern skiing, according to the history of snow skiing, was developed by a Norwegian, Sondre Norheim. He developed the first stiff bindings with wet birch roots formed to fit his boots. When they dried, the bindings would stiffen up. With stiff bindings, the skier had more control than when they had leather straps. At the same time, Norheim developed new techniques to ski with the stiffer binding.
In the 1890s, Mathias Zdarsky developed bindings that allowed a skier to turn more effectively. In addition, he perfected a skiing technique where you push one ski at an angle down the fall line to control speed. This led to downhill skiing.
In the early 1900s, Hannes Schneider developed new turning and stopping maneuvers. He then began the first formal method of ski instruction called the Arlberg technique. Most modern day skiing techniques are based upon the Arlberg technique.
Skiing History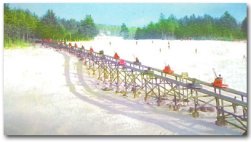 Skiing became popular in the early 1900s. Most skiers used Nordic equipment. The 1924 Olympic games had two ski events: Nordic and Ski Jumping.
Eventually skiing took to steeper terrain where the cross-country skis lacked control. This led to Alpine or downhill skiing where the binding mounted the boot at both the toe and heel which gave the skier more control. The skier could move faster and negotiate steeper terrain. Alpine skiing was introduced in the 1936 winter Olympic games. As alpine skiing became more popular, the introduction of ski lifts in the 1930s followed.
During World War II, Ski patrols were used to help fight the war. According to the history of New Hampshire snow skiing, after the war this sport was looked on with a whole new perspective. Skiing started to receive a lot of publicity with television covering different ski competitions. This led to ski resorts being built all over the United States
in the early 1960s.
Snow Skiing Vacations
As time went on, different aspects of skiing was introduced such as slalom and giant slalom. During this time, faster and safer equipment was developed as well as better skiing technique.
Skiing has become the most popular sport with millions of skiers and thousands of resorts. Snow skiing vacations are a favorite in the winter months. It's fun and thrilling and has several different forms. The most popular forms of skiing in New Hampshire are downhill, telemark, snowboarding and cross-country skiing.