Lake Winnipesaukee
Skiing Conditions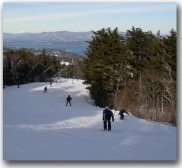 So, you want to know what the Lake Winnipesaukee skiing conditions are like in New Hampshire? New Hampshire and New England skiing has a variety of snow conditions depending on where you are. The further north, the better the chances of having a lot of snow. The further south, the snow cover can be sparse at the beginning and ending of ski season.
Of course, it depends on what mother nature decides to send our way. Some winters we get a ton of snow and others we get more rain or sleet. The ski mountains make up for it by making snow. Just about every ski resort in the northeast will have plenty to ski on so you'll want to learn about all types of Lake Winnipesaukee skiing conditions in New Hampshire.
Types of Snow
While skiing in New Hampshire and all of New England, you'll encounter all types of snow. There's packed powder, hard pack, loose granular, corn snow and more. There's real snow and man-made snow. We get our share of the real stuff, but a good portion is man-made, especially in the east.
The more you ski, the more types of snow you'll encounter on the mountain. The type of snow on the mountain depends on the altitude, temperature and the number of people packing the surface down. It's best to get used to all types of Lake Winnipesaukee skiing conditions.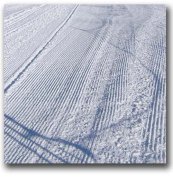 Packed Powder
Packed powder is fresh or man made snow that has been groomed. This type trail is the easiest to ski on in the northeast. With this type of snow, it's easier to carve your turns and control your speed.
Hard Packed
Hard packed is when the snow softened or started to melt and then refroze. This layer is then ground up so it has a granular top layer and the hard snow underneath is textured to make for better skiing.
Loose Granular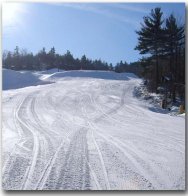 When the icy layer of hard packed is ground up, it leaves a granular texture of the snow. It is also man-made snow on top of hard packed snow.
Heavy Powder
Heavy powder snow is high in water content. It's difficult to ski in unless you use proper technique. Since New England tends to have heavy, wet snowfalls this is most likely the type of powder you'll get with Lake Winnipesaukee skiing conditions.
Light Powder
Light powder snow has less water content. This type of snow falls when there's very cold air in the atmosphere. As it falls, the snow is light and fluffy and the most desirable for skiing. In New Hampshire and New England, we seldom see this type of snow but consider it a great ski day when it does fall this way.
Powder
You can't beat the freshly fallen snow. The snow forms a soft, smooth surface that makes you feel as if you're floating. Powder forms a natural cushion for any ski crashes. Most of the time, you'll find the best powder out west.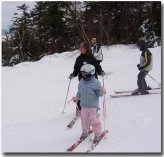 When you have powder, it's easier to carve your turns, hold an edge and control speed. But, if you're not used to it, you can have a tough time getting through it. You have to maintain a good speed, because if you don't, then you'll sink down and have to dig yourself out. In the northeast, you won't have to worry about that for Lake Winnipesaukee skiing conditions.
To maintain your speed in the powder, lean back slightly and keep the tips of the skis upwards. Once you let the skis go into the snow, you sink. It takes time (and energy) to get used to it. Be aware that powder snow can cover up rocks, stumps and other obstacles.
Crud
The next type of snow is crud. This is when all the people ski the powder and it gets piled up in places and packed in others. The fresh snowfall becomes lumpy in some parts and icy in others. These Lake Winnipesaukee skiing conditions can be challenging to ski. It's easy to catch an edge and crash.
It's best to keep your knees bent so that they can absorb the impact from skiing on uneven terrain. It's also very important to pay attention as you're skiing downhill. Once you learn how to ski crud, you'll improve your overall ability to control your skis.
Crust
This type of snow is when the sun melts the top layer of snow and it freezes up again from the cold air temperature. It's also from a fresh snow storm that ends in rain and freezes overnight. New Hampshire and New England snow has a lot of crud and crust.
Corn Snow
Corn snow is more common in the springtime. The warmer temperatures soften the snow as the day goes on. To ski corn snow, you'll want to keep your tips up slightly to avoid a fall.
Slush
Slush is very wet and heavy snow where it almost puddles. It's much harder to ski. If you don't want to wear yourself out, you'll want to do smooth carving turns that go through the snow. Sliding turns where you push the snow tires you out quickly and can lead to knee injury if you overdo it.
Ice
Ice is found on just about all the slopes in the northeast. Most people despise it. It's hard and slippery and sometimes scary for the beginner. Ice is a smooth surface that hasn't been ground up into a texture. This type of snow condition is very common in New Hampshire and New England.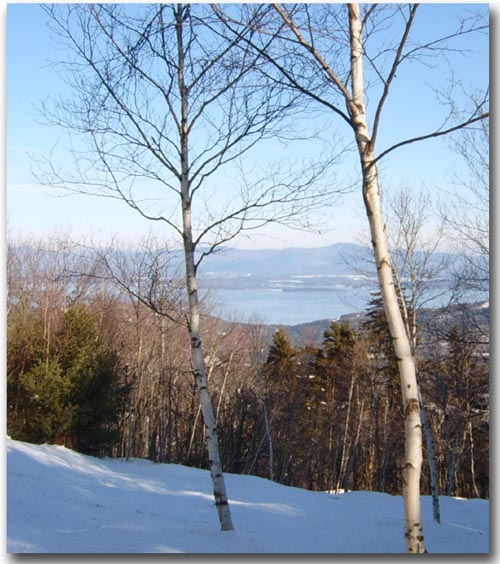 Then there's the icy surfaces that show up during the day that everyone calls ice. As the slopes fill up with skiers, the powder gets pushed off leaving a scratchy surface. This is what we call New England packed powder.
Skiing on ice is difficult to keep an edge. To ski the ice you'll want to make sure your edges are sharp to help you carve turns and maintain a controlled speed. If you stop quickly, you might slide or fall which could lead to injury.
Each night, the snow cats come out and groom the trails. They chop up the ice and crud, smooth out uneven surfaces and leave a nice corduroy look to the slopes. It doesn't stay that way for long. If you want to catch the best Lake Winnipesaukee skiing conditions, then you'll want to ski early when the lifts open.