Lakeport
On Lake Winnipesaukee

The Perfect Small City On Lake Winnipesaukee
The village of Lakeport in New Hampshire is a busy area in Laconia.  Several businesses and restaurants line the streets. 
This is where Paugus Bay on Lake Winnipesaukee flows over the Dam and into Lake Opechee. 
This part of town was formerly known as Meredith Bridge and Lake Village.  Here you will find two historic buildings still in use. 
One is the Ossian Goss Reading Room and the other is the United Baptist Church.

Once known as the hub of rail transportation, this small section of Laconia, New Hampshire has become the home of many excellent restaurants and local businesses. 
Here you can catch the Winnipesaukee railroad which travels alongside Paugus Bay into the Weirs and on to Meredith along the shores of Lake Winnipesaukee.
Places to Eat

The popular Opechee Inn and Spa Resort is located right on the shores of Lake Opechee.  This is a beautiful place to stay and the restaurant is top notch. 
On the other side of Elm Street, you'll find C.J. Avery's, another fantastic restaurant as well as the United Baptist Church. 
Then of course, you can't forget Fratello's, this restaurant serves some of the finest food in this area of New Hampshire.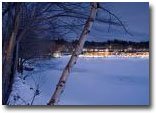 A little further down, you can find some chain restaurants to meet the tastes and budget of the most cost conscious patrons. 
If you need boat parts, rentals or anything else related to boating, check out Irwin Marine.  You'll find auto repair places, pet centers, lighting stores, flower shops and more.

Well, that was a handful of places to get your business done and enjoy a lovely dinner.  I think you'll find this part of Laconia to be the perfect small city on Lake Winnipesaukee in New Hampshire.

---

Back to Laconia From Lakeport.

Back to Lake Winnipesaukee Waterfront Cities and Towns

Return to the New Hampshire Lake Winnipesaukee Travel Guide Home