Map and Navigation Chart
of Lake Winnipesaukee
in New Hampshire
"The good life is inspired by love and guided by knowledge." ~ Bertrand Russell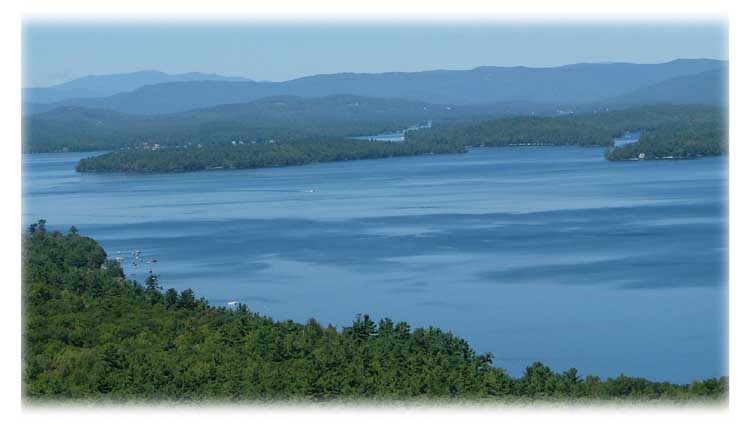 A map to help you navigate Lake Winnipesaukee in New Hampshire is a must for fishing and general boating. There are so many shallow areas, boulders and unknowns just below the surface in many areas. Buoys mark the places to stay away or to navigate around.
If the buoy is a white spar with black on top, you pass to the north or east of it. If the buoy is a white spar with red on top, you pass to the south or west of it. How do you remember that? I found my own memory trigger. Basically it's usually hot in the South and West and red represents a hot color. It's usually colder in the north and east (at least in winter) and black can represent a cold color. This works for me! The solid color channel markers (red and black) are for the boats to pass between the buoy markers.
You'll find all kinds of buoys on Lake Winnipesaukee in New Hampshire. So that you know where you want to go, a map or navigation chart can be your best friend in unfamiliar waters.
The following is a list a some of the places that sell a Lake Winnipesaukee Navigation Chart:
Alton, New Hampshire
Downing's Landing, Alton Bay (at the bridge)

Gillan Marine, Route 11, Alton Bay (at the bridge

Minge Cove Marina, Route 11, West Alton

Olde Bay Diner, Route 11

Parker Marine, Route 11, Alton Bay (at the bridge)

Wayside Grocery at the traffic circle, one mile south of town

West Alton Marina, Route 11
Center Harbor, New Hampshire
Bayswater Bookstore, Route 25

Heath's Hardware Store, Route 25
Gilford, New Hampshire
Ames Farm Inn, 2800 Lake Shore Road

Dave's Motorboat Shoppe, Route 11B, 229 Intervale Road

Fay's Boat Yard, 71 Varney Point Road (Smith Cove)

Fay's Marine Store, 3 Varney Point Road, Route 11 (looks like an ark)

Gators, Inc., Weirs Road (at Gilford shopping plaza)

Silver Sands Marina, 103 Weirs Road

Sports and Marine Parafunalia, 44 Weirs Road
Laconia and Weirs Beach Area in New Hampshire
Anchor Marine, on the boardwalk at Weirs Beach

Channel Marine, Channel Drive, Weirs Beach

Irwin Marine, 958 Union Avenue, Lakeport

Lakeport Landing Marina, Corner of Elm and Union

Paugus Bay Marina, 41 Sheridan Road

Paugus Bay Sporting Goods, 135 Weirs Boulevard

Thurston's Marine, Route 3, Weirs Beach (at the bridge to Paugus Bay)
Meredith, New Hampshire
AJ's Bait & Tackle, 23B Main Street

American Heritage Laminating Company, Edgerly School Road

Innisfree Book Store, Mill Falls Marketplace

Meredith Marina, 2 Bay Shore Drive

Meredith Station, (convenience store across from town docks)

Shep Brown's Boat Basin, 31 Lovejoy Sands Road

Y Landing Marina, 108 Powers Road
Moultonboro, New Hampshire
Conway's Bait and Tackle, Route 25

Dad's Supermarket, Route 109

Jojo's Country Store, Moultonboro Neck Road

Moultonboro Country Store, Moultonboro Center

Muphy's Mobil, Route 25, Moultonboro Neck Road

Rob's Gas Depot, Route 25

Trexler's Marina, Moultonboro Neck Road (at Long Island Bridge)
Tuftonboro, New Hampshire
Wolfeboro, New Hampshire
Black's Paper Store and Gift Shop, 8 South Main Street

Dive Winnipesaukee, 4 North Main Street

Goodhue & Hawkins Navy Yard, Sewell Road

Wolfeboro Bay Outfitters, 15 Main Street

Wolfeboro Corinthian Yacht Club
If you use the navigation chart a lot, you might want to get another to have as a wall map in a frame to help plan out your New Hampshire boating or fishing excursions.