Night Crawler Fishing With
New Hampshire
Master Angler, Alan Nute
(46 Years of Lake Winni Angling Using a Night Crawler From AJs Bait & Tackle in New Hampshire)
In the world of fishing there are magic phrases ….Among them are:
'Remote trout lake, 'fish up to 13 pounds,' 'the place the guides fish on their days off,'….
There's power in words like that."
~ John Gierach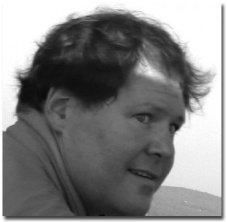 I first met Alan when he took over ownership of the landmark bait and tackle store on Main Street in Meredith, New Hampshire -- the angling community's communication hub known as AJ's Bait and Tackle (AJ standing for Alan James Nute).
He was not only a highly knowledgeable angler who knew first-hand about all the best fishing tackle he carried in his store, but he was also completely generous in sharing that wisdom with all who entered his store, which is not something one can take for granted.
He is also a creative experimenter with various lures and baits, being the only Master Angler on our list who is a master at catching salmon with a night crawler! Alan is also a master fly-tier, having created hundreds of his own successful patterns which he, himself, tests, before selling them.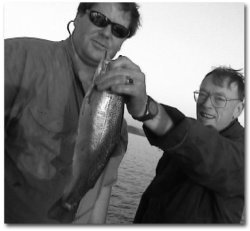 When I first invited him to fish with me on my boat, I did not expect to witness such a creative use of varied lures and baits. But he managed to catch and land a nice salmon, 4 bass, a rainbow and a white perch in an hour of August fishing with me by trolling a night crawler -- something I would never have tried!
Night Crawler Fishing and Alan Nute
I was born in Nashua, New Hampshire on May 5, 1962, just as the good salmon fishing begins on Lake Winni. Angling and football were the two sports I excelled in. I caught lots of fish with a night crawler and I was an All-State linebacker in high school. I also played while at Plymouth State College in New Hampshire.
I have been in the retail fishing tackle business since I was 16. My dream was to someday own my own tackle shop and I achieved that goal in 1997 when I bought Waldron's Bait Store and became the owner of what is now AJ's Bait & Tackle in Meredith, New Hampshire.
I want to use and try everything I sell which gives me lots of research and development time on Lake Winni, testing new lures and flies which I tie myself right in the shop.
I am able to get out to fish and to catch most of my own hellgrammites (which I do with a snorkel and mask in the rivers, turning over rocks near shore and grabbing them in my hands), crawfish, smelt, and shiners for the store.
I've been fishing Lake Winni in New Hampshire for 46 years beginning at age 5-6. My uncle first took me Ice fishing off Bear Island and trolling in the spring. My aunt,
June Fuller, owns a place on Bear Island right across from Cattle Landing and it was there that my uncle taught me to fish using a night crawler.
My Uncle Cyp which is short for Cyprian Kvedar, was my fishing mentor. He taught me many successful methods of fishing with a night crawler as live bait, jigging through the ice, and trolling with flies in the spring.
What's my favorite Lake Winni game fish?
Landlocked salmon- they are unpredictable and put up a great fight, jump a lot, and are strong fighters.
Which do I prefer, leadcore, fly rod, or down rigger fishing for salmon and trout?
I use them all. They all work, in their time and place.
August, as I can get up early, be out on the Lake at first light, and come back with a limit of salmon or trout by working time in the early morning.
1.5 mph
• Chart of fishing depths/colors of leadcore (pound test) and best lures:
Month

Salmon

(depth & lure)

Lakers

(depth & lure)

Rainbows

(depth & lure)

Bass

(depth & lure)

May
Top to 25 ft.

A.J.'s flies, Top Guns

40 ft. on bottom

sutton Spoons

On surface

Small flies & crawlers

Shallow 0-10 ft.

Gold Bombers

June
20-40 ft.

Dodger & Fly, Top Gun

40-50 ft.

Sutton Spoon

20-25 ft.

Flies, crawlers

Still shallow

Spinner bait

July
40-55 ft.

Dodger-fly, DB Smelt

50-65 ft.

Pro Eye Spoons

25-40 ft.

Top Guns

10-20 ft.

Gitzits/Sinkos

August
50-70 ft.

Harry's Willow, DB Smelt

60-110 ft.

Bucktail jigs

25-45 ft.

Phoebe Spoons

20-40 ft.

Zoon Lizards

September
30-55 ft.

Flash King

60-110 ft.

Suttons & jigs

Top-40 ft.

Streamer flies

15-30 ft.

Silver Buddy

October
Season Closed
Season Closed
Season Closed
2540 Ft.

Silver Buddy

Ice Fishing
40 ft.

Bucktail Jig or sucker meat

Just under ice

Bucktail jig or sucker meat

35 ft.

Salmon eggs

Shiners
Largest salmon, laker, rainbow, bass, and other fish I have caught in Lake Winni"
Salmon:

Size: 9.5 pounds in September

Lure: Egg Sucking Leech fly

Depth: 5 ft. of water

Laker:

Size: 10 pounds on January 3, 1980 10:30am

Lure: live smelt through ice

Depth: 30 ft.

Rainbow:

Size: 5.25 pounds in April

Lure: night crawler

Depth: trolled on top

Other Large Fish:

Size: 8 pound cusk

Lure: jigging with a Swedish pimple

Size: 3.5 pound white perch

Lure: small jig with worm
Passing on my angling skills on to others?
I have a daughter who does not fish, so instead, I pass on my skills to customers in my store, AJ's Bait & Tackle in Meredith, New Hampshire.





When I tell them to try my pumpkin-head streamer for salmon, (one of Hal Lyon's favorites), I have been out there using it with success. People now know that and they take my recommendations.





Many summer novice fishermen and women come into my store, and after I learn about their experience, I guide their decisions on a rod and reel, line, lures, technique, and even…sometimes, places to go. They keep coming back as a sign of their trust in me and what I sell them. I take pride in having happy and successful customers! I tie and fish with all the flies I sell in the store.
My top five tips for salmon?
Fish early in the morning as the plankton are still high from the darkness and the smelt will be where the plankton are and the salmon will be where the smelt are. As the sun rises, the plankton go deeper to dark cool waters near the thermocline.
Give your lure action either by stopping and going with your motor, by jigging, or by a mechanical device to impart that action to your lure or fly.
Fish the temperature. Find what depth 55 degrees is and fish that depth.
Change lures frequently if fish are not hitting yours. I use dark lures in early morning or when it is dark (black, blue, gray, green) and light lures (orange and yellow) on light or sunny days.
Use scent. I put scent on all my lures and bait, whether it is a night crawler, live smelt, fly or spoon. Fish are very scent sensitive and given a scentless lure or one with scent, they will go for the smell. I like Dr. Juice's salmon scent.
My top 5 tips for lakers?
Fish the bottom.
Fish slowly.
Use scent.
Fish the deep drop-offs.
Use a night crawler as live bait.
My top tips for rainbows?
Fish shallow, sandy areas.
Fish the mouths of brooks.
Use a night crawler.
Use the same techniques and flies as for salmon.
Use rubber lures off structure and near shore.
Use hellgrammites, crawfish, and a night crawler.
In summer and winter fish slower and deeper.
In fall, jig using bucktail jigs.
Make sure ice is 4" thick for walking and 6" for snowmobiles.
Use live bait and Jig for lakers.
Fish near shore in very shallow water for rainbows.
Use a fish finder. This is the newest and greatest breakthrough for ice fishermen, as it can save hours of waiting for fish who are not where you are. I use a Vexilar Fish Finder which fits into a 5-gallon pail.
Most of the time I practice it. But I also love to eat fresh fish!
What do I think has happened to the Lake Winni yellow perch?
The competition with other species, like white perch, salmon, and lakers, has forced them to warmer coves where the salmon and Lakers will not go. Also the use of Copper Sulfate, currently being used to kill milfoil, takes oxygen from the water, which kills the plankton, small fish, and eventually the perch and other fish. Opechee Lake has been heavily treated with Copper Sulfate and it has killed the smelt there.
What do I think has happened to the Lake Winni whitefish ("shad")?
I think we still have some but no one seems to fish for them like the old timers did.
If I were New Hampshire Fish and Game Commissioner, what initiatives would I take to improve Lake Winni angling?
I would stop the use of Copper Sulfate and spend the money trying to find a new way to get rid of milfoil.





The New Hampshire Fish & Game biologists have basically done a good job of adjusting the salmon stocking to the number of smelt in the lake. (I recall back in the mid 1980s when they overstocked salmon, and the salmon the next year were skinny as pickerel!) That mistake moved me away from salmon fishing to bass fishing.





But I believe there are too many small needle smelt now and few of the big jack smelt we use to have. I never find big smelt in the stomachs of fish anymore. Perhaps smelt should be netted and taken to hatcheries or other lakes to allow them to grow large and then re-stock them back in Lake Winni.
My favorite fishing stories?
On occasions when either ice fishing or trolling all morning with no luck, a front, snowstorm, or squall will come upon the lake and fish will start hitting faster than you can manage them!





My friends and I were ice fishing one cold winter morning out off Bear Island. We had not one flag on our tip ups all morning. Suddenly we found ourselves in a snowstorm - a real white out.





As soon as we could see, there were a half dozen flags all up at the same time and we were hauling in trout! The lesson here is not to give up after hours of fishing, but change something - the lure, the speed, the depth …or if you are powerful, like God, the weather!





I was fishing one morning with a friend who had a new electric trolling motor. Halfway out, suddenly the motor disappeared! His mount had broken and his new motor was gone.





Six months later a customer came into my store, and when I asked if he had caught anything, he said, "Yes, an electric motor!" Sure enough he had snagged my friend's motor while trolling past the same spot we had lost it!





My uncle Cyp, his son, and I fished the first Winni Ice Fishing derby in 1980. We won first and third in the laker contest! But this was one of the years when to win the big prize, you had to catch a trout with a tag and then the tag number had to be drawn - with odds like the state lottery.





My cousin caught a tagged trout and we rushed in to enter it. The big prize tag number was identical to his number in all digits…except for the last digit that missed by one number! We like the Derby better now that it is based on fish size more than just the luck of the draw…but then, luck is one of the most important ingredients in all angling!
My current favorite lures & flies
Here are pictures of my favorite flies, all tied by me. Can you identify them? If not, drop in to my store and I'll tell you what they are.



Also do you know what this mysterious black box the flies are on is? It is a Finiky Fish Factory ice fishing jigging box, complete with heating lamp to stop the ice hole from freezing over, and alarm to tell you if a fish has taken your bait! I can order one for you, if you want to make your ice fishing more "high-tech!"



Lures:

People often ask me what my favorite lures are. This keeps changing with the seasons and when new lures come out, but I sell more of three lures than any others and I also would put them on one of my lines at all times. And two of them are new comers to the angling scene. What are they?

The Top Gun in various colors. I have sold over 3000 of these new spoons manufactured in Vermont.
The DB Smelt is the next new lure in various colors. "DB" stands for its inventor, Dave Broder, a New Hampshire native from Berlin who makes this slim smelt-like lure. In summer and fall, the DB smelt is a killer lure.
The Sutton spoon, an old standby lure which comes in silver and copper or brass. I like the # 66 Sutton.
But I also catch a lot of fish on a night crawler, rigged to troll behind the boat.




Here's my method of rigging them:

Run a thin wire with a tiny hooked end through the length of the night crawler, bring it out about an inch from the end of the night crawler.
Put a loop of your leader into the hooked end and pull it back through the night crawler.
Attach a #4 hook to the end of the leader and snug-up on the leader until the hook is up to the exit place in the night crawler.
Add a second hook to your leader just above where it comes out of the night crawler near its front
Attach your leader with a night crawler to a swivel on your line to prevent twist

This series of photos show me rigging the bait as described:
Favorite recipes for cooking various Lake Winni fish?
My aunt has a recipe, which is a winner for salmon. She takes a whole fresh salmon, and stuffs the body cavity with a mix of crabmeat or other seafood, butter, and cracker crumbs. She bakes it for about 40 minutes and then pours white cheese sauce with peas over it. It is delicious!
Am I concerned about mercury levels in the New Hampshire Lake Winni fish to the degree that I restrict my fish intake?
I'm not concerned, as we do not eat lake fish every day. Now, even the farm-raised salmon from the grocery stores are contaminated from PCBs and other chemicals from the environment and the fish food they feed them. They were probably much worse in the old days before we had any controls.
To order the complete award-winning book, Angling in the Smile of the Great Spirit, or its accompanying DVDs featuring live interviews with the Master Anglers of Lake Winni, please go to: www.deepwaterspress.com