Tuftonboro
On Lake Winnipesaukee

Tuftonboro, New Hampshire is on the north side of Lake Winnipesaukee situated between Moultonborough and Wolfeboro. 

The town is made up of four different communities:  Center Tuftonboro, Melvin Village, Mirror Lake and Tuftonboro Corner.  
At one time, the town had the distinction of being entirely owned by one man.  This man was John Tufton Mason, for whom the town is named after. 
He later sold it to a group of Portsmouth merchants.

One lovely and peaceful retreat is Melvin Village on the shores of Lake Winnipesaukee.  
There you will find fantastic views of Lake Winnipesaukee and the Belknap range.  Melvin Village has become a popular vacation area in New Hampshire over the years.
Reviews of Melvin Village area.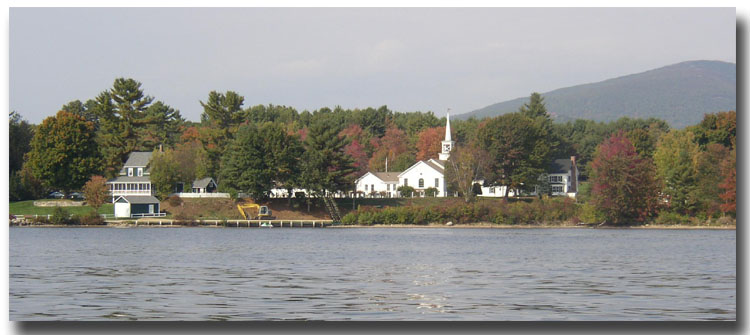 The General Store


In the center of town, you will find the old fashioned general store.  This is where you can buy grocery items, pizza, subs and lottery tickets. 
As is common in old fashioned general stores, you can even find the post office located there.
In addition to everything else, the general store also hosts artists from their non-profit Old White Church Productions venue.  Most of the musicians come from Ireland.
Relaxing Views

On the shores of Lake Winnipesaukee you will find Merrymount Landing located here.  It is the only mailboat stop on the northeast corner of Lake Winnipesaukee.

Cruising over to this part of the lake is a nice diversion.  It's a much quieter part of the lake.  It's a relaxing ride with beautiful scenery.
---

Back From Tuftonboro to New Hampshire Cities and Towns Around Lake Winnipesaukee Waterfront

Return to the New Hampshire Lake Winnipesaukee Travel Guide Home