Lake Winnipesaukee
Ski Ratings For Trails
In New Hampshire
Lake Winnipesaukee ski ratings for trails are important to know and apply to just about every resort throughout the country. You will find them posted on just about all slopes everywhere in New Hampshire and throughout North America. Those that do not have markings are best to avoid as they are most likely for very advanced skiers. Knowing what the trail markings are is one of the important skiing tips for your safety.
How the trails are rated depends on each ski resort. It's important to evaluate each trail for your ability at the different resorts. Some resorts will mark a trail expert when other places will mark that same level as intermediate. So, when skiing around Lake Winnipesaukee ski ratings will help you determine which slopes are best for your abilities.

Green Circle - These are the easiest trails to ski. The trails are wide, groomed and an easy slope to ski down. They are usually filled with beginners.
Blue Square - These trails are for the intermediate skier. They are a bit more challenging than the easy trails with a bit steeper terrain. Intermediate trails are groomed and sometimes have easy moguls or tree skiing on them. They are considered fun and not scary. It's also a great level to practice your skiing technique.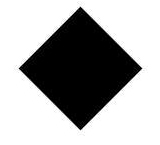 Black Diamond - These trails are difficult and are for advanced skiers. Most of these slopes are steep, narrow, have moguls and might not be groomed. If there are extreme icy conditions, a trail may be marked as a black diamond.

Double Black Diamond - These trails are extremely difficult and are for the expert skier. The terrain on these trails is steep with drop offs, moguls or glades. Double black diamond trails should be avoided unless you're confident that you are advanced enough to handle the challenge.

Terrain Park - Not all resorts have a terrain park They are usually marked with an orange oval. Some of these are marked with the above trail ratings as well. You will find jumps, jibs and natural features for tricks on skis and snowboards.
The above ski ratings for trails in New Hampshire as well as other places should help you find the right ski slope for your ability. Sometimes, a resort might come up with their own ratings in addition to the above. For instance, a green square or blue diamond where the trails are slightly more difficult than the lower level and not as advanced as the upper level.