Town Of Wolfeboro
On Lake Winnipesaukee

The Oldest Summer Resort in America!

One of the main reasons that I like Wolfeboro, New Hampshire is because it holds such special memories for me. 
This is where I went on my first date with my husband.  We started off on a boat ride around Lake Winnipesaukee and stopped there for an ice cream. 
Of course, I was talking so much that the ice cream melted all over my hand. 
He still brings this up every time we have ice cream cones.

Located on the southeastern side of Lake Winnipesaukee, Wolfeboro, New Hampshire is known as "the Oldest Summer Resort in America." 
In 1872 when the Mount Washington was launched, it brought many tourists to this town via Lake Winnipesaukee. 
Read reviews of the Wolfeboro area.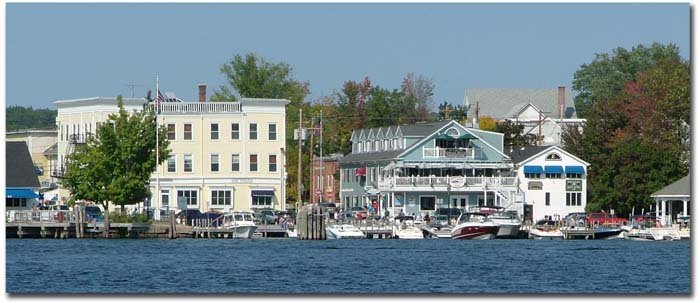 Summer Vacation In New Hampshire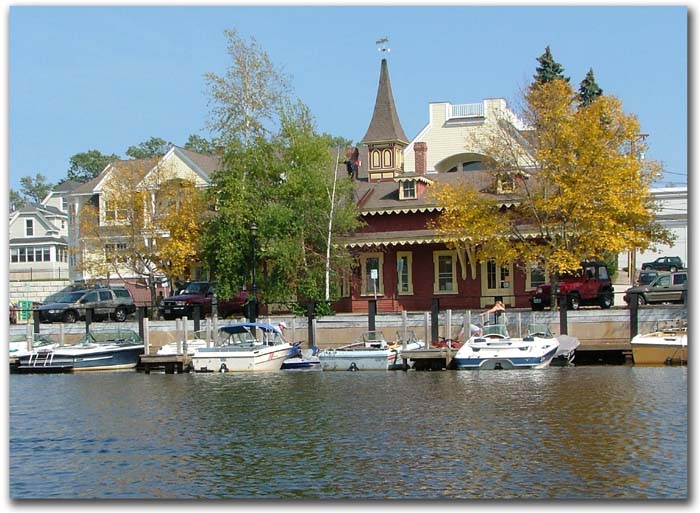 This town is not just a summer vacation spot any longer.  It has become a year-round community, offering many activities in the off season months as well. 
It's a place that one must visit when they're in the lakes region.  Once you have, you'll want to keep coming back.

As a popular destination spot, many boaters cruise on over to this end of Lake Winnipesaukee.  The docks are bustling with activity.  Sometimes it can get quite busy. 
Many boats come and go, so you won't wait too long for a spot.  If you have a small boat, then you can fit under the bridge to Back Bay.  There are a few more public docks just on the other side of Main Street.
Downtown On The Shores Of Lake Winnipesaukee

For those arriving by car, there are plenty of places to park.  Take a stroll down Main Street and browse the shops, have an ice cream or just sit and watch all the activity.
Drive out to the Wright Museum which celebrates Americans' sacrifices and achievements during World War II or check out the New Hampshire Boat Museum featuring vintage mahogany and antique boats.
Music On The Shores Of Lake Winnipesaukee


In the summer, the Great Waters Music Festival is a popular venue promoting live musical performances.  This organization culturally enriches the lakes region by offering a diversified program that appeals to all musical tastes. 
Great Waters has attracted national artists such as Wynton Marsalis, Dave Brubeck, Arlo Guthrie, Glen Miller Orchestra, Lucie Arnaz and many more. 
Boats
If you're into antique boats, then you won't want to miss the Vintage Race Boat Regatta held in September every other year.  This event takes place every other year in Wolfeboro, New Hampshire on Lake Winnipesaukee. 
This regatta is known for its 'flat water' and lots of water time.  A vintage heat is run every half hour. 
If you donate to the NH Boat Museum, the vintage boat race drivers are giving rides on demonstration heats.  The Wolfeboro docks will be open for public viewing.  It's a spectacular Lake Winnipesaukee event.

The Water Ski Club holds local tournaments promoting safe recreational and competitive water skiing on Lake Winnipesaukee in New Hampshire. 
These are held in Back Bay with competitive slalom, tricks and jumping.  It's fun to watch whether you're in a boat or sitting on the grassy slope alongside the bay.
Stay And Play
Wolfeboro, New Hampshire has a lot to offer.  The downtown area is quaint and picturesque with many shops to browse along Main Street.  There's something for everyone. 
You'll find bed and breakfasts, inns, resorts and rental properties.  Many of these are right on the water where you can be close to all the action.  Others are nearby in quaint neighborhoods. 
For those that prefer the outdoors, there are plenty of campgrounds to set up a tent or RV within the vicinity of Lake Winnipesaukee.

If you've fallen in love with this place and want to have a summer home here, there are many realtors that will help you find that perfect place on beautiful Lake Winnipesaukee in New Hampshire.
---

Back From Wolfeboro, New Hampshire to Lake Winnipesaukee Waterfront Cities and Towns

Return to the New Hampshire Lake Winnipesaukee Travel Guide Home