Alton Bay On
Lake Winnipesaukee

Small Town Atmosphere
Alton Bay On Lake Winnipesaukee in New Hampshire is a small town on the southern tip of Lake Winnipesaukee. 
It's a nice little town built up over the years.  The most famous industry in Alton was the invention and manufacturing of the corkscrew.
At the end of the bay the Merrymeeting River meanders along. 
This river is perfect for small craft such as kayaks and canoes.  While there, try fishing in the quiet waters.
In the early days, tourists would come here by train and board "the Mount" to Wolfeboro.
After arriving in Wolfeboro, they could either disembark and stay there or continue on up to the White Mountains of New Hampshire.
Reviews of Alton Bay area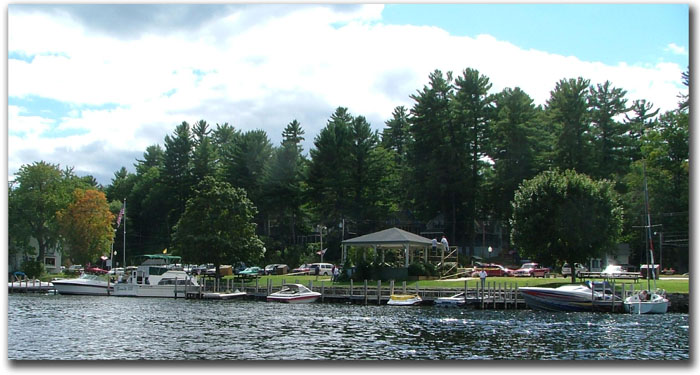 Fun Activities On Lake Winnipesaukee
New Hampshire
For the hiking enthusiast, Mount Major and Straightback Mountain are located here.  The trails are fun and not too difficult nor too easy to hike.
When you reach the Summit, you're rewarded with a spectacular view of Lake Winnipesaukee.  Plus, there are a ton of blueberries to pick when you hike in blueberry season.

Whether you go by car or boat, this community has a lot to offer the visitor.  We usually go by boat and stop at  the public docks to get a bite to eat, listen to a concert at the gazebo or attend a craft fair.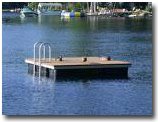 A special treat is when you can get an ice cream, sit along the docks and watch everything happening in and around the water.

You will find some spectacular fireworks on the Fourth of July.  We always go by boat. Actually, the fireworks are usually held on July 3rd. 
Just being anchored in the water, enjoying the warm night air is fun.  Bringing along friends, food and beverages makes it a great evening for everyone.

Winter Fun On Lake Winnipesaukee
New Hampshire
In the wintertime, Alton Bay hosts a Winter Festival on the ice.  The whole town comes out for this.  There are games, music, food and more. 
One of the highlights is the great American "bed" race.  People race beds.  They get pretty creative, too!  You'll find wrought iron beds, baby cribs, cardboard beds and whatever the people can think of.
There's a horse-drawn cart, a seaplane and plenty more.  It's very interesting and a lot of fun.

---

Return to Cities and Towns on the Lake Winnipesaukee Waterfront from Alton Bay.

Return to the New Hampshire Lake Winnipesaukee Travel Guide