A Church Wedding Around
Lake Winnipesaukee

A church wedding in the Lake Winnipesaukee area of New Hampshire is the traditional way to marry the one you love.

As you plan how you will walk down the aisle you'll want it to look as beautiful as you do.
Drape floral garlands, rent potted plants, tie bows to the pews and decorate to complement the season.
Selecting the perfect place to get married could be as easy as location to relatives or the ambiance you desire.
There are many churches to get married in around the Lake Winnipesaukee area.
I have compiled a list of most of the places to have a church wedding in the lakes region of New Hampshire.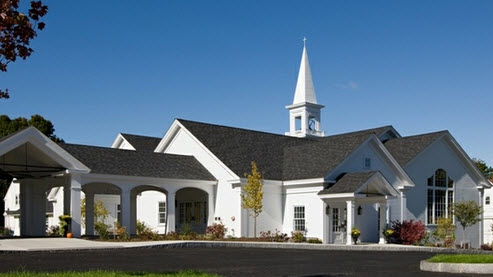 | | | |
| --- | --- | --- |
| Seventh Day Adventist Church | Laconia, NH | (603)528-4008 |
| Calvary Bible Church | Meredith, NH | (603)279-6025 |
| | | |
| --- | --- | --- |
| Belmont Baptist Church | Belmont, NH | (603)267-8185 |
| Evangelical Baptist Church | Laconia, NH | (603) 524-2277 |
| First Baptist Church | Meredith, NH | (603)279-8108 |
| South Baptist Church | Laconia NH | (603)524-7740 |
| United Baptist Church | Lakeport, NH | (603)524-8775 |
| First Baptist Church of Wolfeboro | Wolfeboro, NH | (603)569-4448 |
| Moultonboro United Missionary Baptist Church | Moultonboro, NH | (603)253-6879 |
| | | |
| --- | --- | --- |
| Immaculate Conception Catholic Church | Gilford, NH | (603) 528-8556 |
| Sacred Heart | Laconia, NH | (603) 524-4155 |
| St. Charles Church | Meredith, NH | (603)279-4403 |
| St. Joseph's Catholic Church | Laconia, NH | (603) 524-1442 |
| St. Joseph Rectory | Belmont, NH | (603)267-8174 |
| Our Lady of the Lakes Catholic Church | Lakeport, NH | (603) 524-1357 |
| St. Katharine Drexil Parish | Wolfeboro, NH | (603)569-2548 |
| | | |
| --- | --- | --- |
| New Covenant Christian Church | Laconia, NH | (603)524-3378 |
| | | |
| --- | --- | --- |
| Gilford Community Church | Gilford, NH | (603)524-6057 |
| Gilmanton Community Church -I.W. Rte.140 & Gilmanton Corner | Gilmanton, NH | (603)364-7891 |
| New Hampton Community Church | New Hampton, NH | (603)744-8252 |
| Community Church of Alton | Alton, NH | (603)875-5561 |
| Melvin Village Community Church | Tuftonboro, NH | (603)544-9661 |
| Mirror Lake Community Church | Tuftonboro, NH | (603)569-6541 |
| Red Hill Community Church | Moultonboro, NH | (603)253-8701 |
| | | |
| --- | --- | --- |
| Center Harbor Congregational Church | Center Harbor, NH | (603)253-7698 |
| First Congregational Church | Meredith, NH | (603)279-6271 |
| First Congregational Church | Wolfeboro, NH | (603)569-1555 |
| | | |
| --- | --- | --- |
| St. James Episcopal Church | Laconia, NH | (603)524-5800 |
| Trinity Episcopal Church | Meredith, NH | (603) 279-6689 |
| All Saints Episcopal Church | Wolfeboro, NH | (603)569-3453 |
| | | |
| --- | --- | --- |
| Central Baptist Church | Belmont, NH | (603)528-4078 |
| First Christian Church | Wolfeboro, NH | (603)569-4272 |
| | | |
| --- | --- | --- |
| Church of Jesus Christ Latter-Day Saints | Laconia, NH | (603)524-5686 |
| Church of Jesus Christ Latter-Day Saints | Wolfeboro, NH | (603)569-1528 |
| | | |
| --- | --- | --- |
| Good Shepherd Lutheran Church | Laconia, NH | (603)528-4078 |
| | | |
| --- | --- | --- |
| First United Methodist Church | Gilford, NH | (603)524-3289 |
| Tilton-Northfield United Methodist Church | Tilton, NH | (603)286-4443 |
| Tuftonboro Methodist Church | Tuftonboro, NH | (603)539-8058 |
| Moultonboro United Methodist Church | Moultonboro, NH | (603)476-5152 |
| | | |
| --- | --- | --- |
| Greek Orthodox Church | Laconia, NH | (603)524-9415 |
| | | |
| --- | --- | --- |
| Grace Presbyterian Church | Laconia, NH | (603)528-4747 |
| | | |
| --- | --- | --- |
| Unitarian Universalist Society | Laconia, NH | (603)524-6488 |
| | | |
| --- | --- | --- |
| Temple B'Nai Israel | Laconia, NH | (603)524-7044 |
---

Back to Wedding Supplies From Lake Winnipesaukee Churches

Return From Church Wedding in New Hampshire Back to Weddings.

Return to the New Hampshire Lake Winnipesaukee Travel Guide Home