Ice Skating Shows in the
Lake Winnipesaukee Area
of New Hampshire
Local ice skating shows in the Lake Winnipesaukee region of New Hampshire are where many figure skaters show off their talent. Many shows have a theme or are raising money for a benefit.
Skaters from toddlers to adults at various skill levels perform. The shows are mainly for those taking skating lessons. In addition, seasoned skaters perform in between the groups to round out the ice skating show.
Each show will have some solos, duets and group performances. At the end, everyone who skated during the show will come out for a group skate around the ice.
Each year, Central NH Skating Academy has the "Spread Your Wings and Soar" Cancer Benefit program show. Everything is beautifully choreographed and it takes place in the late fall at the Laconia Ice Skating Rink in the Lake Winnipesaukee region of New Hampshire.
In addition to the benefit show, there is usually an end of the skating season show where every skater participates. Most are held in March. You can find out more about these shows or beginner ice skating lessons by contacting either Magic Blades Skating Club or Central NH Skating Academy. Both are located in the Lake Winnipesaukee area of New Hampshire.
Professional Ice Skating Shows
Going to a professional skating show can be exciting. There are all types of shows to see. The ultimate would be to go to the Olympics or World Championships. In this area, there are various skating shows to see. Stars On Ice, Disney shows, Champions On Ice, Holiday On Ice, etc. are well worth going to. Children of all ages love the Disney shows. Those that are interested in ice skating themselves will enjoy the Stars On Ice and many of the other shows.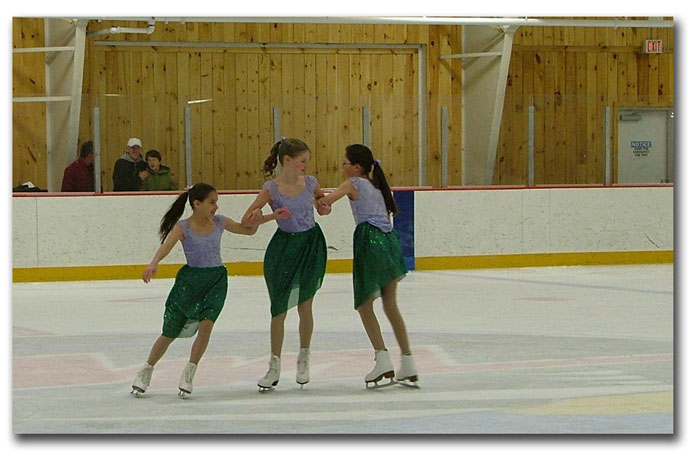 Manchester, New Hampshire is the closest place to Lake Winnipesaukee that holds professional skating shows. There are usually many advertisements for these shows, so it's easy to get the tickets for an enjoyable family event.
When my girls were younger, we went to a Disney on Ice show. The girls were riveted to the show. It was exciting for them to see their favorite Disney characters skating. A couple of years later they went to a Stars on Ice show as well. Since both girls were taking beginner ice skating lessons, this show had a real impact on them.
Ice skating shows, whether they are in the Lake Winnipesaukee area of New Hampshire or further away, are a fun way to spend some quality, family time together. Whether you go to a local show or a professional one, the time is well spent and you'll have an appreciation for the sport of ice skating.