New Hampshire Hiking Tips
Around Lake Winnipesaukee
"I dream of hiking into my old age." ~ Marlyn Doan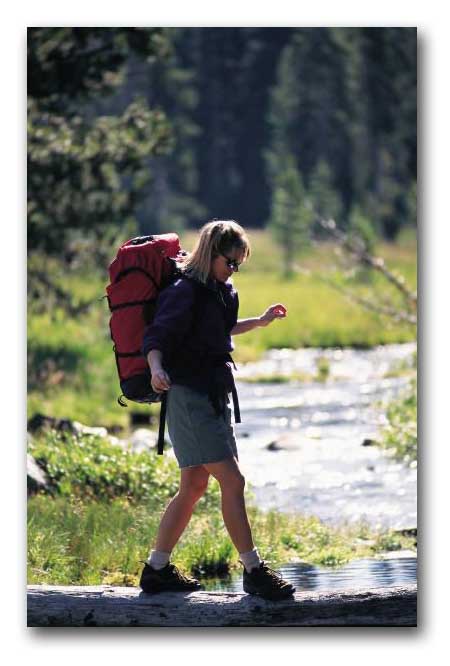 Hiking tips to make your trail climb in New Hampshire a more enjoyable adventure!


If you like nature and exercise, then hiking the trails around Lake Winnipesaukee could be just your cup of tea. You'll find both large and small trails to meet the needs of all hiker's abilities.
You'll find many trails with magnificent views of Lake Winnipesaukee that could easily be done in a few hours. There are other trails a little further away in New Hampshire that are great hiking spots as well.
Before going out, make sure you have everything you need. Dress in layers. You get hot going up the mountain and you'll start to peel off the layers. When you get to the top, it's much cooler and you'll need to put the layers back on.
Bring plenty of water to keep yourself hydrated, a camera to capture the gorgeous views, binoculars for bird watching, enough provisions to keep you going and a map or guidebook.
Here are some hiking tips to make your New Hampshire trail experience more enjoyable for you and others.
Dress properly. Cotton shirts, comfortable pants or shorts and good hiking shoes with the right type of socks.
Bring a waterproof backpack and nylon jacket as well as warm pants, matches, compass, map, pocketknife, water, spare food, sunscreen, insect repellent, first aid kit, flashlight, whistle, hat and cell phone.
Always walk with at least one other person. It's not only safer, but keeps you company as well.
Let friends or family know where you are hiking and when you expect to be back. This helps keep peace of mind.
Always follow the trail. Do not venture off the trail or take shortcuts. What seems like an easier way, could get you lost.
Keep the trails as you came across them. Basically, don't litter. If you bring it in, take it out.
Stay on the trail.
Protect the plants. It's best not to remove the plants to add to your "garden", this could inhibit growth. Leave rocks where they are. It could affect the flow of rain water and start the process of erosion.
Be courteous. Let other hikers pass, especially if they're going uphill.
Follow these other hiking safety tips for a successful hike.
Now that you know the basics of what to bring and some great hiking tips, it's now time to check out the different New Hampshire hikes around Lake Winnipesaukee.